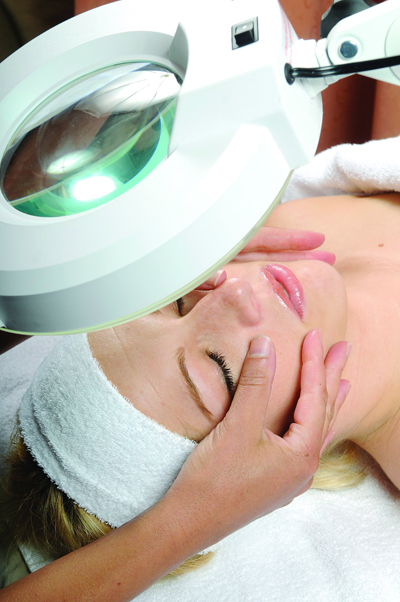 Bloom Earthly Beauty provides a variety of organic facial treatments and specialty services to rejuvenate, restore and improve your skin's health, providing not only a relaxing retreat from the world but also taking your skin and body on it's journey to a clearer, brighter complexion. Aging is beautiful, however pre-mature aging is a nuisance.
We follow the stricter European Guidelines for cosmetic products. You can trust that you will not find "fragrance," a US catch-all term that can hide hundreds of unknown toxins, used in our treatments. You can also feel safe with Bloom's hair removal process of sugaring.
Gift Certificates can be purchased here.
The Bouquet Facial, $75 Series of 6, $405
This soothing botanical facial is your customized starting point. It will provide a deep cleanse and steamy scrub exfoliation, plus the perfect gentle enzyme that will help remove your dry petals revealing softer skin. Massage, serums and masks based on your skin type and wants will leave you softly dewy and relaxed.  60 minutes
The Garden Facial, $145 Series of 6, $780
90 customized minutes of what your skin needs. All that the Bouquet Facial offers plus specialized exfoliation (microderm, dermaplane, peel), treatment (red light therapy, microcurrent), masking, and serums. Results, yes!
The Ultimate Zen Facelift Anti-Aging Facial, $80 Series of 6, $430
The Bouquet Facial plus the stimulating and lifting set of award-winning specific isometric movements with various holistic techniques such as Manual Lymphatic Drainage, Cupping, Massage, and Cryo-globes along with powerful exfoliants, serums, and masks resulting in tighter, lifted skin. 60 minutes
The Boutonniere (Gentleman's) Facial, $65 Series of 6, $350
The gentleman's facial is focused on the unique needs of a man's face that experiences harsher treatment through climate and shaving. This includes a deep cleansing, followed by an exfoliating scrub and fruit enzyme to break through any possible roughness, and extractions as needed. This stimulating yet relaxing treatment concludes with a cool, soothing gel mask to balance and hydrate your skin, also helping alleviate shaving irritation. 60 minutes
The Cultivating Facial, $80 Series of 6, $430
This is a more involved treatment for those who suffer with acne. Using organic products specialized for oily and blemished skin, this facial is the first step in healing. Blemishes contain bacteria that needs to be addressed with special attention to exfoliation and extractions and healing anti microbial high frequency. Your skin will then be treated to a soothing Hungarian mud mask to reduce any irritation and inflammation. Moisture is key to healing as well, as over drying your skin will result in damaging your skin's protective barrier. You will be given instructions and suggestions for home care to continue the process. 60 minutes
The Budding Facial, $50
A cleansing facial and lesson in skin care for the teenager in your life. This facial focuses on cleansing and extractions as necessary. Your teen will be educated about proper cleansing techniques to help keep acne at bay without drying out their sensitive skin. 35 minutes
 The Field Facial, $60
This is a deep cleaning and exfoliating treatment for your back. Long relaxing movements, massage, and mask make this back facial a dream. Let's get this neglected area prepped for days at the beach. 45 minutes
Pruning, add-on to any facial, $ 30 / solo service, $65 / series of 6, $300
Microdermabrasion – using a diamond tipped wand, a deep manual exfoliation that removes up to 30% of the top layer of your epidermis. As a single treatment, it will noticeably brighten and smooth out dry areas. As a series of 6-8, you will see a reduction in fine lines, sun damage and acne scarring.
Dermaplaning – using a fine blade, safely and painlessly offers the same benefits as microdermabrasion. In addition, it also removes the vellus hair, "peach fuzz," leaving you with silky smooth skin. Unlike old wives tales tell us, vellus hair does not grow back in thick or dark when removed. It will slowly grow back just as it currently is. As an added bonus, makeup will apply like a dream after dermaplaning.
Natural Peel – using natural acids present in fruit, sugar, or milk, a superficial depth peel, also known as the "Lunch Time" peel penetrates the outer layer of skin to gently exfoliate. This results in reducing fine lines, wrinkles, sun spots, scarring, and acne, creating an over-all glow revealing healthy new cells. You will feel a mild stinging tingly sensation, but this treatment should not be painful. Add-on – $20 / solo service – $40 / series of 6 – $200.
Lip and/or Eye Treatment – using the diamond Microderm wand on very gentle, treat your eyes and lips to a special experience. On a low setting, the areas will be softly exfoliated and then a natural fruit enzyme is applied. Your fresh eyes and lips will thank you for their smooth new surface. Add-on – $10 each / solo service – $15 each.